RenovationPenang.com provides a wide array of construction services. We are known for our quality services in both commercial as well as residential premises. We are specialists in general constructions, kitchen renovation, bathroom renovation, floor renovation, hotel renovation etc and are willing to take up any sort of construction work. We give priority to each and every construction project undertaken by us and our clients can see the difference. We provide various types of services such as:
General Construction and Renovation Projects
RenovationPenang.com provides a vast array of renovation services to commercial premises, hotels, houses, communities, offices, restaurants and many others. We also offer excellent and professional turnkey renovation as well as management services at fairly affordable rates. There are numerous stages such as planning the budget, preparing the schedule, procuring the raw material, project management, stringent quality control, maintaining track of the value billings and finally the culmination of the job.
Client satisfaction is our primary motto and we ensure that our efficiency and professionalism is maintained throughout our projects. We are able to meet the deadlines without compromising on the quality of the work. We offer you detailed quotes free of cost for any of your job requirements.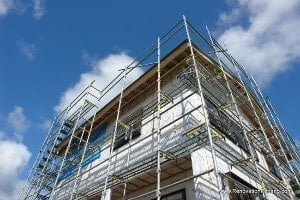 We provide turnkey hotel renovation services where we remodel the guest rooms, the office, reception area etc. We also redesign the interiors for newly constructed premises and use the best materials. We use tiles made of porcelain, ceramic, quarry, VCT etc. We also use granite for the counter tops. The marble used is cultured and we also undertake drywall repairs, textures, paintings and VWC projects.
• If you wish to completely revamp your hotel or simply invest in a swanky guest bathroom, you can get in touch with RenovationPenang.com. We cater to all your renovation requirements.
• Granite Vanity Tops and Shower Panels are not quite expensive and we ensure that you get the best deals at the least cost.
• You don't need any maintenance for cultured Marble Shower Surrounds and these can be easily installed on the current shower wall tile without any hassles.
We provide various house renovation services such as Floor coverings made of carpet, vinyl, porcelain as well as ceramic tiles. Besides this we also cater to hardwood and laminated finishing cabinets, doors, windows, roofs, drywall etc. We also undertake kitchen and bath renovation decks as well as patios.
If you wish to use your home space in a better manner then you should get in touch with RenovationPenang.com to change your house and give it a better and spacious look.
You can add bedrooms, entertainment rooms, additional washrooms, office spaces, kitchen, living rooms and a lot more. We guide you through all the stages of renovation, modification right from scratch in the planning as well as implementing stages.
You can now change your basement and use it as a tailor made area where you get some privacy and respite.
We have a competent team of ace design consultants who are willing to assist you in planning and executing the bathroom renovation according to your desire.
Each client is treated in a personalised manner and we give you complete quality assurance. We are known for our prompt delivery, innovative designs, smart and cost effective styles.
Reasons to approach us for your bathroom renovation:
• Complete client satisfaction and positive feedback.
• Personalized services.
• A single project manager works dedicatedly on your project from inception to completion.
• The designers assist you in procuring all the materials needed.
• We assure you of complete satisfaction.
You can get in touch with us for a free in-home consultation to kick start your project.
Shower Surrounds: We have a vast array of shower surrounds made up of cultured marble, granite and custom made tile showers. We are known for our expertise in installing shower surrounds and we have carved a niche for ourselves in the hospitality sector, institutions and residential premises.
We give you complete kitchen renovation solutions beginning from the tiling on the floors to the fixtures of the light. Our expert design consultants assist you throughout the process and help you in the kitchen renovation, adding a unique touch to your dream kitchen.
RenovationPenang.com offers you complete personalised services and assures you of stringent quality control measures, excellent designs and classy artwork at fairly reasonable rates.
Reasons to approach us for your kitchen renovation:
• Positive and satisfied feedback from clients.
• Personalised, in-home services.
• We allot a single project manager to work dedicatedly on your project from start to finish.
• The designers assist you in procuring all the material needed.
• We assure you of complete satisfaction.
You can get in touch with us for a free in-home consultation to begin your project.
Granite Counter tops
We provide and install granite counter tops which are used in the hospitality sector as well as residential premises. Our products are fairly priced without compromising on the quality. We ensure that the design is unique and appealing. We also undertake custom registration desks, showers made of granite and other projects needing granite.
We lay new surfaces for wood, tile, stone as well as carpet.
Being general contractors, we at RenovationPenang.com can provide you with a plethora of services which are not listed here. Even if the service is not listed here, we provide it with the same competency levels. You can get in touch with us for an in-home or an in-office consultation to find out about any project you wish to start. We will be happy to send you a detailed quote and share the samples with you. Our team will handle all your queries and share the reference details if required. We are eager to work on your project and make your dreams come true.
Carpet and Tile Installations
RenovationPenang.com has successfully completed the installation of carpets and tiles for various hotel rooms. We have also installed numerous custom made tiles for restaurants and residential complexes. We provide various types of flooring like, hardwood, vinyl etc.
Renovating your office can be a daunting task. It requires that you come up with something that is going to enhance the productivity and not only change the layout and furniture of your office for the sake of making those changes.
You need to make sure that your new office is a place that encourages people to work hard but also makes them feel relaxed and happy to be in their office. Your office renovation needs to allow your workforce to feel comfortable, but it should also be arranged in a way that is practical and allows for easy communication between workers.
By hiring RenovationPenang.com you build a lifelong relation. We guide you through each step since the moment you get in touch with us. Your satisfaction is our motto.